PeptART Bioscience GmbH is a Swiss chemical manufacturing company located near Basel. Since 2008 our group has been manufacturing high quality products, on schedule, meeting industry standards in quality, occupational and environmental safety. The product range includes pseudoproline building blocks, amino acid derivatives, peptides and related products from the field of peptide chemistry.
We sell our products around the world.
We are experts in the field of peptide synthesis and their derivatives. We focus on delivering highest quality at a competitive price. Our fully equipped production facility provides the infrastructure to handle the entire manufacturing process of amino acid derivatives and peptides including the potential for future growth and development. As a small company, we make sure that our production process is efficient with short turnaround times.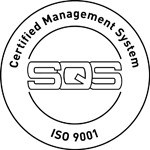 Since 2015 we operate under the name PeptART Bioscience GmbH. We comply with ISO 9001:2015 and have our facility regularly inspected and approved by the Swiss Association for Quality and Management Systems (SQS) and various API manufacturers, qualifying us as a supplier of API starting materials.
Catalog prices apply to research grade material. Prices for API starting material, bulk and customized packaging upon request.